Management, Service, Towing, Parts, and more.
Your fleet anytime, anywhere
Each vehicle's location and usage
Detailed data online, anytime
Performance, safety, and compliance
Drive your fleet further with data-based decisions.
Make timely, informed decisions with smart fleet management reporting that's accessible anytime, anywhere—on any device.
Track vehicles and equipment in near real time. View your entire fleet on a map that automatically updates, without refreshing your screen.
Uncover hidden costs and identify more efficient ways to use assets.
Enhance security by seeing when an asset was powered on and taken from a yard.
Stay on top of required inspections to ensure safety and compliance.

Also access data captured by leading our software, including our suite of fleet health solutions. The information you need, all on one single platform.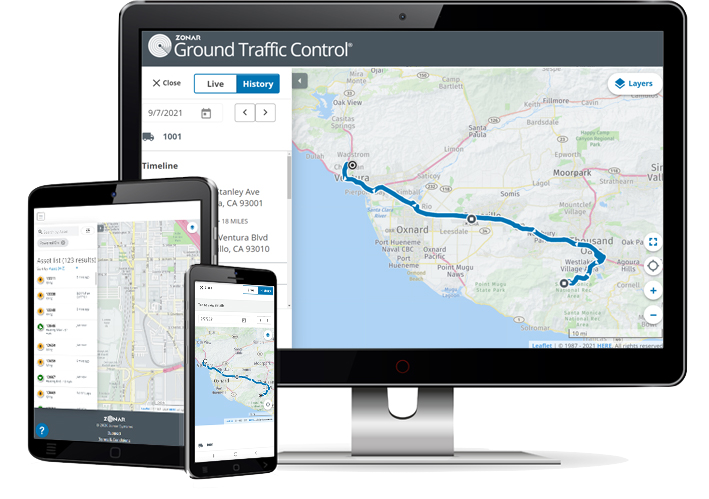 Track on-the-move assets in detail.
Informed decisions deliver better mobile asset utilization and higher ROI than guesswork. Apply the data, details and trends you see in Ground Traffic Control to maximize asset output.
Know where any asset is located at any given moment.
Stop investing in unnecessary replacements and temporary assets.
Eliminate yard hunts and calls to locate missing vehicles and equipment.
Dispatch assets to where they're needed and track how they're used.
See how and where your drivers spent their day.
Evaluate a vehicle's historical data for a clearer picture into how drivers used their time. Determine if the best routes are being used, what led to an incident and if the vehicle reached its destination. Protect against false insurance claims and inaccurate complaints about speeding, stopping and service levels. Save time, save money and save your fleet's reputation.
Determine if speeding and stop complaints are accurate.
View if or when each driver took a required lunch break.
Identify which roads were traveled, for how many miles and for how long.
See when each vehicle left and arrived at the stop or destination.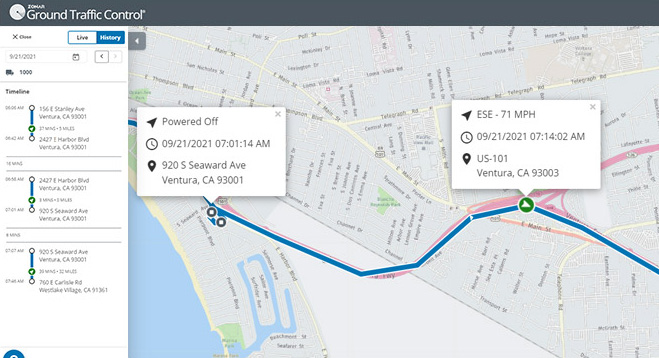 Carry your live operations on the go.
Built for any mobile device, web-based Ground Traffic Control keeps live operations and activity at your fingertips, literally. Use the same desktop functions and features—on a screen that fits in your pocket.
Dial in on data that powers informed decisions.
Focus on using data, not digging for it. Quickly find your most important reports and details using our intuitive dashboards. And customize your own to make life that much easier.
Save even more time by having tailored reports emailed to you daily, weekly and monthly. Current vehicle utilization, fuel efficiency, driver behavior—in your inbox, ready when you are.
Stay in the know, in real-time.
Know when something needs your immediate attention. Create alerts to be sent to your phone and be informed of specific fleet activities, vehicle defects, HoS violations and fleet health issues as they occur.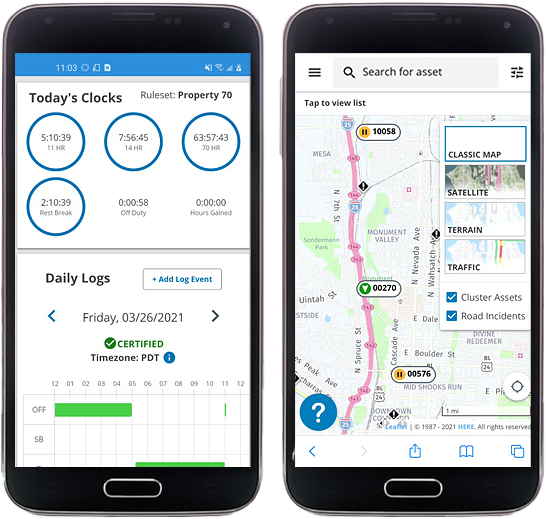 Monitor and manage real-world driver performance.
Identify your best, coach the rest. Use Ground Traffic Control's detailed performance data to uncover who's operating safely and efficiently, and who has room to improve. View safety scores, and rank drivers to foster healthy competition.
When there's an incident, access dashcam on-demand footage in Ground Traffic Control to see what really happened. One easy platform for securely accessing critical video and context.